Yes! The development of Technology has resulted production of Corporate Video Production Agency Videos much compactable. This project was a tremendous opportunity for us to showcase our speed of working with a compact team! Client was none other; TamilNadu Polymer Industries Park from the Government of TamilNadu. The approach for the project was just before 3 Days of the Foundation Laying function in the Industrial park, which was inaugurated by Honorable Chief Minister.
Project Plan:
Client just gave a Single piece of Drawing, which contained the Site Details. It was more fun, when we started the Pre works for this project, as we didn't have any more inputs from client. With a piece of Drawing our Production team jumped into the Production process. We spent a Day only with planning, and it helped us a lot to deliver the Video in time. In our Pipeline a new technique which helped us to finish the project instantly. Explore further about the range of services we offer
Communication & Target:
Communication:  External Marketing Communication
Target Audience: Corporate CEO and Officials
Type of Animation: 3D Corporate Video Production
Industry: Polymer Industries
Medium of Distribution: Specific Displays & Online Promotion (YouTube, Email, Website and Social Chat)
Project duration: 2 days
3D Corporate Video Production:
To engage our viewers, our team planned the Walkthrough shots and executed well. The visual making satisfied all the expectations from our client. The whole video was a 48 hour process. Video contains the Futuristic construction & elevations of the site. You can refer the video below. This video also features the benefits to customers. You can find the making of our project below in our Production stages!
Production Stages for the 3D Corporate Video Production Agency:
Concept and Scripting:
Concept was to showcase the future developments of the Polymer Park. In scripting we divide the entire video concept into two. One is the visual part and other is audio.
Modeling & Texture:
We developed 3D factory model, 3D machine models, car, Light Post etc. Texturing is the next stage of creating a realistic 3D model, the process of creating and applying suitable colors for the elements is known as Texturing.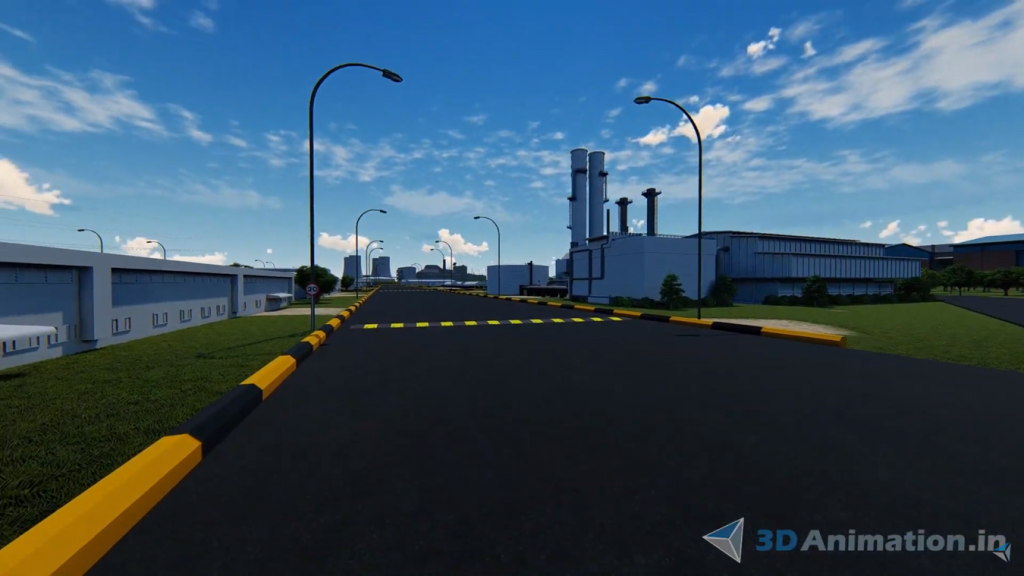 3D Animation:
As per the script the 3D animation scenes are produced, Example: Showing the Walkthrough of the Polymer Park.
Lighting & composite:
The visual reality is achieved in animated video as similar to the live scenario, we match all the colors, add day lights, factory environment lights to enhance the visuals of animation video. This helps photo- realism environment to your animated video. Compositing is aligning the video as per the video script.
Rendering for Corporate Video Production:
It's a machine process to get the creativity output as .png or .jpg as a sequence of images at 24 to 36 fps. Rendering usually takes 4 hours to produce 10sec video output. If any correction, you have to wait until it is re- rendered. Also depends on the video assets and video quality output. If any corrections, you have to wait until it is re- rendered. To avoid such delays we pre-plan the production and do the iteration at every stage.
Editing & Final HD:
Editing is all about adding the rendered images into video format and aligning as per video script. A visual effect like computer graphics, text animation, video title, and subtitle is added at this stage. Audio effects like voice over, back ground music and SFX detailing are given at this stage. Feel free to visit our partner site for additional resources and information.
Measuring the Success:
Success can be measured in various aspects. We did a Smart job and delivered the Video within 2 days of time. Client was satisfied and the whole internal team of Polymer Industries applauded us.  Video got showcased in other Government Sectors like TIDCO, SIPCOT, etc. and received a good response. Our client has again approached us for a Motion Graphics video, and it was also done by our team.
*Note: Everybody wonders how the Video was completed within two days. As mentioned above we have a New Technique with us. So if you need Instant Videos you can keep us in mind.
Source File Protection: Up to 5 Years from Order date your files are safe with us, You can access your video files any time for future update or Retrieve at any damage of video files.
WATCH THE 3D CORPORATE VIDEO PRODUCTION :
Project name: A 3D Corporate Video Production Agency Video can be made in a duo days! Need Proof? Take a Glance below!
Project duration: 2 days
Project cost: Get quote