Electrical Safety Video
Electrical safety videos are employed to prevent employees from electric shock or other injuries resulting from either direct or indirect electrical contact. Electrical safety videos are showcased to employees to maintain and ensure their safety and to establish a safe workplace. This will reduce the destruction caused by any accidents. The overall safety measures are showcased in this video.
Project Plan
Client shared with us documents containing the Site drawings and plans to produce an Electrical Safety Animated video. They also shared Site Details on the map. We then start our Pre works for the project. We will spend even a week for planning and understand the scope of work, to ensure that every individual employee understands the harmful and dangerous effects of electric current, electric arc, electromagnetic field and static electricity from our Electrical Safety Video.
Communication & Target
Communication:  External Marketing Communication
Target Audience: Visitors and Employees
Type of Animation: 3D Animated Electrical Safety Video
Industry: All manufacturing and chemical Industries
Medium of Distribution: Online Promotion (YouTube, Email, Website and Social Chat)
Project duration: 30 days
Video Description
To engage our viewers, our team will plan with multiple Walkthrough shots. Our visual making will satisfy all the expectations of our clients. Electrical Safety Videos can protect your employee against health and safety risk at the workplace. An Animated video will help your employee to learn the Safety measures before handling any electrical equipment. This video also features the benefits to customers. You can find the making of our project below in our Production stages!
Production Stages
Concept and Scripting
Concept showcases how to operate and safeguard Electrical equipment in each and every division of the factory. The actual environment and facilities are used in the concept to explain the real-life emergency situation. In scripting, we divide the entire video concept into two. One is the visual part and the other is audio.
Storyboard
We sometimes draw hand sketches, 2D vector illustration or even a presentation deck to get client approval on how the video looks like. In this stage, the client can share things to add or delete as per the target audience.
Modeling & Texture
We develop 3D Electrical Board, 3D PPE, 3D factory, 3D Models, 3D human character, emergency equipment's
3D Animation & Rigging
As per the script the 3D animation scenes are produced, Example: Employees are instructed to strictly follow the instructions on how to handle electrical equipment. Rigging: It's an animation technique to perform human motion or activity like lifting, moving etc. which you can see in this video.
Lighting & composite
The visual reality is achieved in the animated video as similar to the live scenario, we match all the colours, add daylights, factory environment lights to enhance the visuals of animation video. This helps photo- realism environment to your animated video. Compositing is aligning the video as per the video script.
Preview video
We produce preview 3D animated videos and share with clients for approval. In this stage, client can visualize the animated video content and communication. Though this is not the final video or the actual visual, in this video you can find some greyscales and non-detailed visuals. If you want to check the content of your animation video this is the stage you can add or delete to modify the video before going for 3D rendering.
Rendering
It's a machine process to get the creative output as .png or .jpg as a sequence of images at 24 to 36 fps. Rendering usually takes 4 hours to produce 10sec video output. If any correction, you have to wait until it is re-rendered. Also depends on the video assets and video quality output. If any corrections, you have to wait until it is re-rendered. To avoid such delays we pre-plan the production and do the iteration at every stage.
Editing & Final HD
Editing is all about adding the rendered images into video format and aligning as per video script. A visual effect like computer graphics, text animation, video title, and the subtitle is added at this stage. Audio effects like voice over, background music and SFX detailing are given at this stage.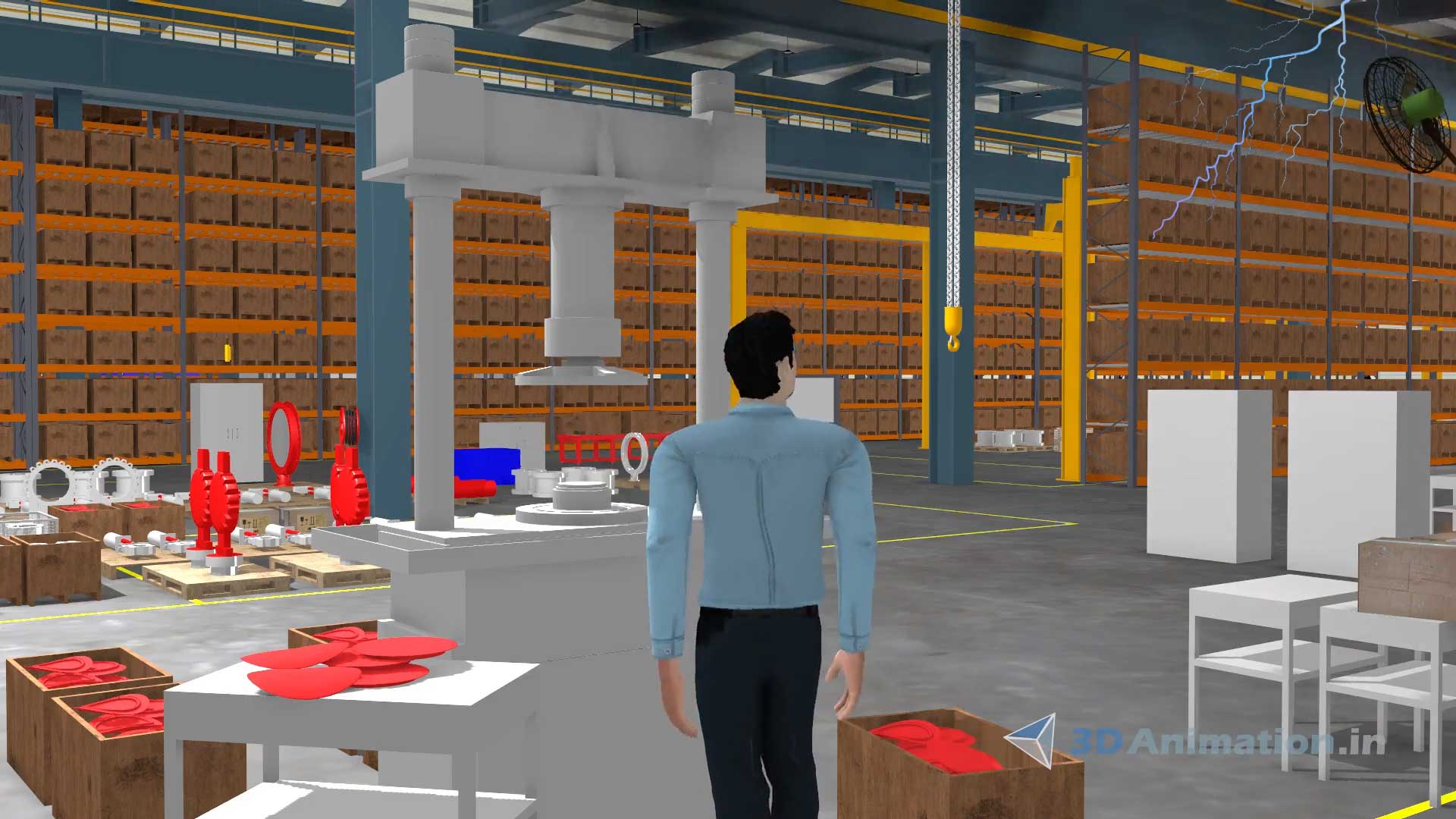 Measuring the Success
Success can be measured in various aspects. We embrace the things that make us unique from others. We always give our clients winning results. Our Post Production Team was so helpful in bringing out the Stunning Visuals.
View the 3D Electrical Safety Video Animation.
Source File Protection: Up to 5 Years from the Order date your files are safe with us, you can access your video files any time for a future update or Retrieve any damage of video files.
Project name: Safety 3D Animation – Electrical training and Safety Video
Project duration: 30 days
Project cost: Get a quote