Description
An architectural futuristic visualization 3D walkthrough animation video that has been meticulously crafted to vividly showcase the comprehensive project plan and numerous benefits that promise to transform the urban landscape into a technologically advanced and sustainable hub. This video was created for the smart city project in TamilNadu.
Inside Video Additional information
This forward-thinking proposal for a smart city encompasses a vast area of 120 acres and incorporates crucial aspects in a strategic manner. These elements include metro stations that connect Porur and Guindy, a recreational space that includes a swimming pool, and emergency exits. This all-encompassing vision is brought to life in a dynamic manner by means of an engaging 3D walkthrough animation, which offers a riveting and immersive experience of the complexities and innovations that are embedded in the architectural visualisation.
Project Plan- requirement
Concept, Competitor, scripting, storyboard, voice over, modeling, animation, lighting and texturing, rendering, editing and Final HD video.
Production Stages of 3D Architectural Animation Video's
Concept and Scripting & Storyboard
The conceptualization, as envisioned by the client, is geared towards spotlighting the imminent project plans of the Tamilnadu government in Nandhambakkam and elucidating the associated benefits among the citizens. This comprehensive vision is dynamically brought to life through an engaging 3D walkthrough animation, providing an immersive exploration of the future developments and their positive impact on the community.
Video Shoot/Modeling & Texture
Architectural 2D Modeling plan was shared by the client, and we re-produced the same into 3D building, environment and other required models. Textures are the flat images that are applied to a model to give it color and detail.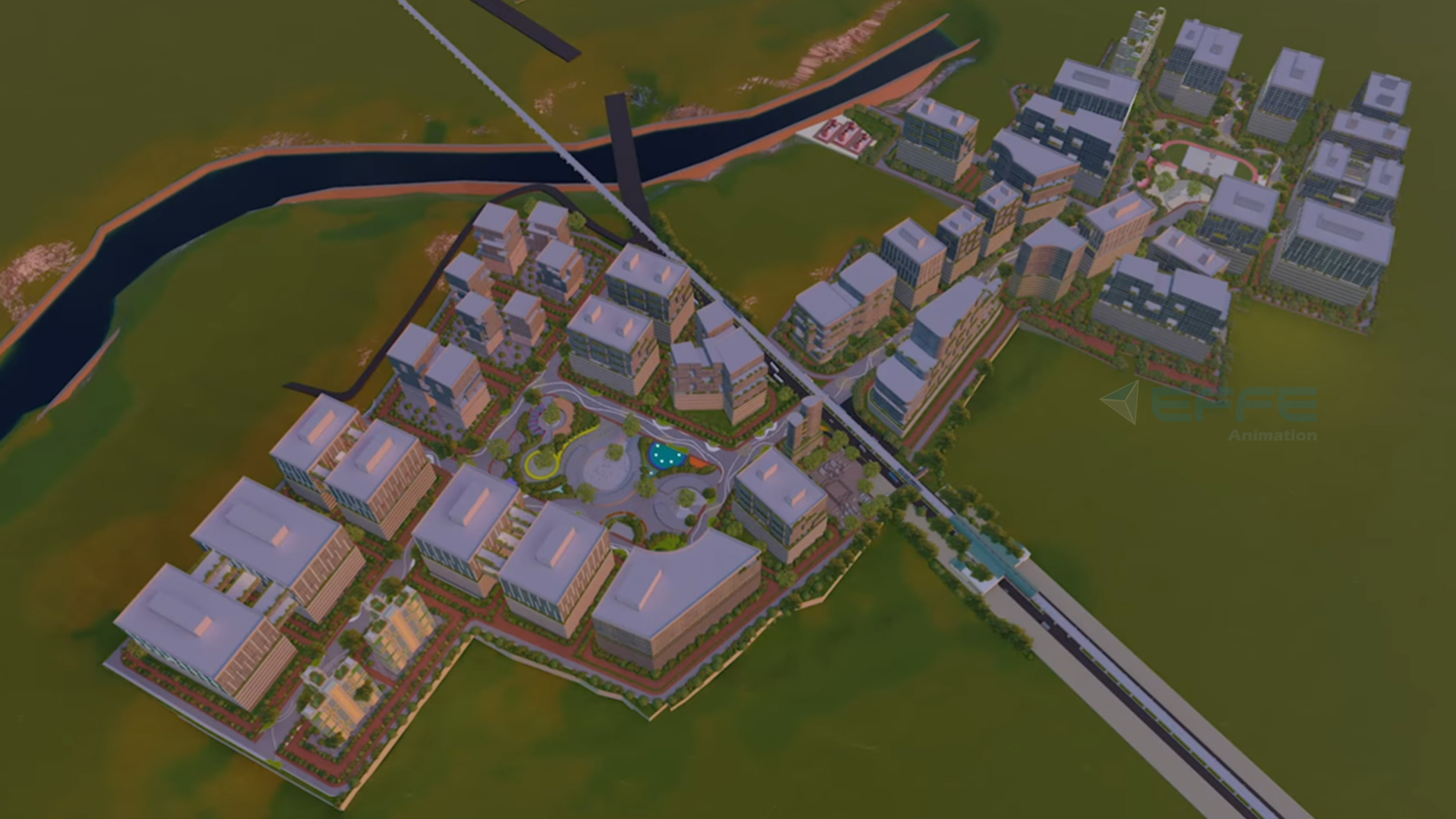 3D Animation & Rigging
Within this 3D walkthrough animation, a number of effects have been included in a seamless manner in order to demonstrate the precise architectural alignment and detailed designs of the building. It is important to note that during the animation process, factors such as building elevation, environmental assets, facilities, and associated advantages are covered in great detail. Detailed rigging has been methodically completed in order to display genuine human motions, as demonstrated in the movie. This has resulted in an overall improvement to the visual experience and has provided a comprehensive understanding of the project that is being envisioned.
Lighting
In the 3D walkthrough animation, the attainment of visual reality is skillfully achieved in a seamless manner, replicating the genuine scenario with painstaking attention to detail. The visual aesthetics of the animation movie are elevated as a result of this process, which involves the precise matching of colours, the incorporation of natural sunshine, and the incorporation of manufacturing environment lights. The use of this all-encompassing method helps to create a photorealistic atmosphere within the animated video, which results in a viewing experience that is both fascinating and immersive.
Preview video
In this stage we share the video to the client for approval to produce to the next stage, this stage is important stage that client can share their reviews to change any scenes, modules or design of the video. On approval 3D rendering proces will begin.
Rendering
Rendering or image synthesis is the process of generating a photorealistic or non-photorealistic image from a 2D or 3D model by means of a computer program. The resulting image is referred to as the render.
Editing & Final HD
Editing is all about adding the rendered images into video format and aligning as per video script. A visual effect like computer graphics, text animation, video title, and subtitle is added at this stage. Audio effects like voice over, back ground music and SFX detailing are given at this stage. Explore further about the range of services we offer.
Measuring the Success:
Success can be measured in various aspects. Our team has produced or executed the project as per the client satisfaction. Our Post Production Team VFX team was so helpful in bringing out the Stunning Visuals.
Source File Protection: Up to 5 Years from Order date your files are safe with us, You can access your video files any time for future update or Retrieve at any damage of video files.
Watch the 3D Walkthrough Animation Video
Project name: Create short elegant 3D Promotional Video with 3D Computer Graphics Services!
Project duration: 7 days
Project cost: Get quote