Project Description
Instead of a person demonstrating the process or explaining a product and how it's made, why not create an animation video? This is possible with our animation studio because we offer customizable, engaging, and easy-to-understand videos. Our 3D Visualization Services allow us to create Interactive Product Demonstration videos, making it easy for your customers to understand the functionality of your products and helping your business maximize profits. We have been working on visualizing how the manufacturing of steel takes place, from scrap to its final shape.Explore further about the range of services we offer.
Project Plan
This project is purely based on Steel manufacturing industry. After a brief explanation from the client, we understood the technical information for the video. The client shared the Factory CAD diagram and a rough script of the Steel manufacturing plant. With that, we started our 3D Visualization Services production. We completed the project in 45 days. Feel free to visit our partner site for additional resources and information.
Communication & Target
Communication: External Marketing Communication
Target Audience: Builders, contractors and Construction companies
Type of Animation: 3D Manufacturing Animation Video
Industry: Steel Manufacturing Industry
Medium of Distribution: Online Promotion (YouTube, Email, Website and Social Chat)
Project duration: 45 days
Video Description
This video explains how the scrap is received and melted, and made into proper steel for building structures. These kinds of 3D visualization services videos are quick, easy to create, and cost affordable. The five simple steps are Sketch, Model, Texturing, Lighting, and VFX. You can find the making of our project below in our Production stages!
Production Stages
Concept and Scripting & Storyboard
Concept was to showcase how the scrap is melted in the heating area and then it attains a shape and made into steel. For Storyboard, we sometime draw hand sketches, 2D vector illustration or even a presentation deck to get client approval on how the video look like. In this stage client can share things to add or delete as per target audience.
Modeling & Texture
We developed 3D Factory Environment, 3D machines, Interior and Exterior Models and Vehicles. Texturing is the process of applying an image or color to a 3D model. Textures are the flat images that are applied to a model to give it color and detail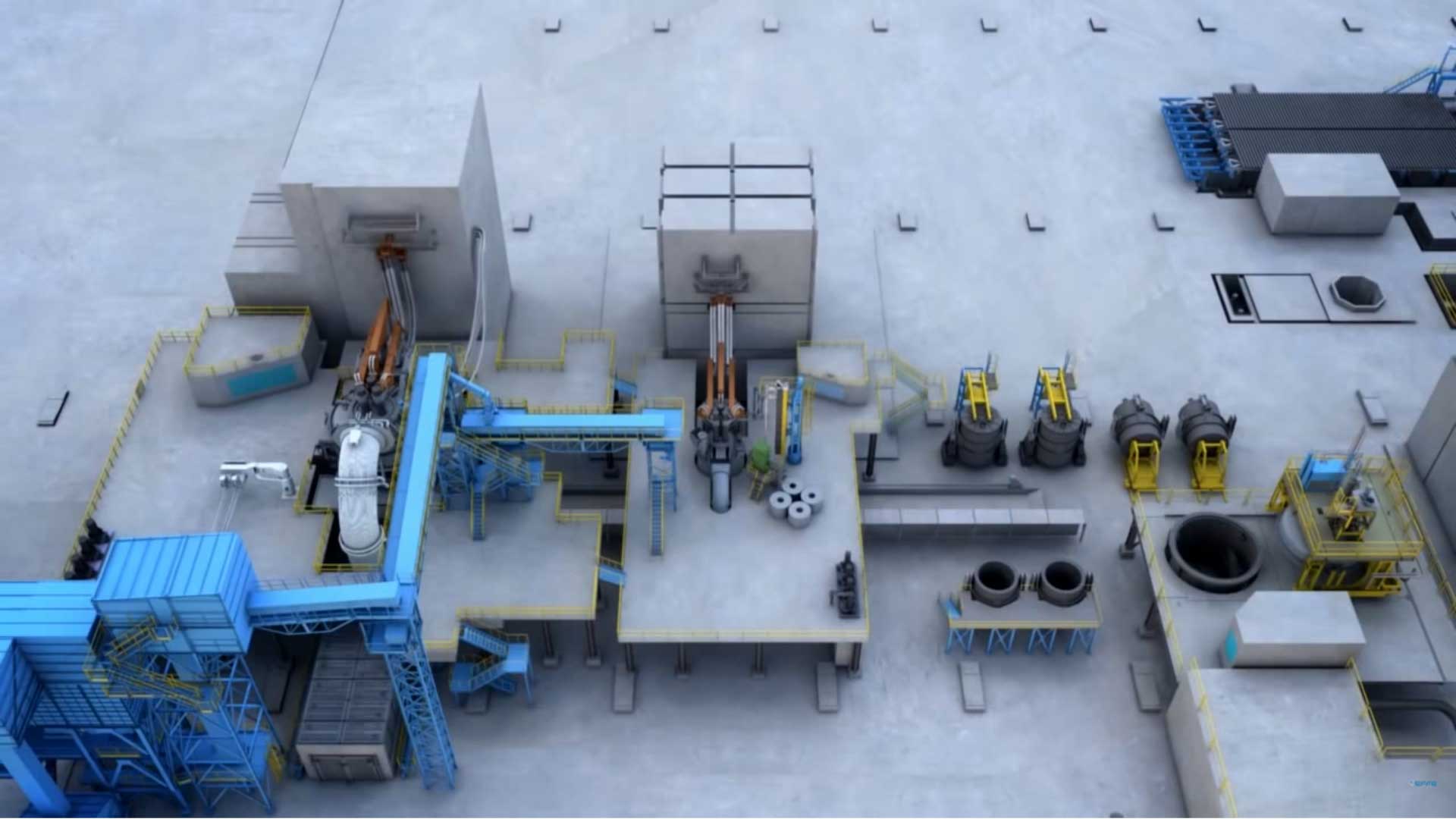 3D Animation, Lighting & composite
As per the script, our 3D animation services produce scenes where, for example, when the front propulsion engine stops, the engine in the back initiates, creating a seamless transition. We meticulously match colors, incorporate day and environment lighting, and enhance your animation video's visual realism. Our 3D visualization services bring a photorealistic environment to your animated video. Compositing is skillfully done to align the video with the script.
Preview video
We produce preview 3D animated videos and share with clients for approval. In this stage client visualized the animated video for content and communication. If you want to check the content of your animation video this is the stage you can add or delete to modify the video before going for 3D rendering.
Rendering
It's a machine process within our 3D Visualization Services to generate creative outputs as .png or .jpg sequences at 24 to 36 fps. Rendering typically requires 4 hours for a 10-second video. Any corrections necessitate re-rendering, depending on video assets and quality. To minimize delays, we pre-plan production and iterate at each stage.
Editing & Final HD
Editing is all about adding the rendered images into video format and aligning as per video script. A visual effect like computer graphics, text animation, video title, and subtitle is added at this stage. Audio effects like voice over, back ground music and SFX detailing are given at this stage.
Measuring the Success
Success can be measured in various aspects. This video was created to explain how the scrap is manufactured into steel through various stages, which cannot be captured through real camera. We as a team planned and executed this project from a simple sketch to proper Interactive product visualization. Our VFX team helped us in editing and visual effects.
Source File Protection: Up to 5 Years from Order date your files are safe with us, You can access your video files any time for future update or Retrieve at any damage of video files.
Watch the Interactive 3D Visualization Services Product Visualization Video.
Project name: Create 3D Interactive Product Visualization videos to explain your Industry process and features!
Project duration: 45 days
Project cost: Get quote